It happens to most everyone. From time to time, the words just aren't there. You may have set aside time for writing, you may have a good idea, even a supply of your favorite food and beverages for writing. No matter. You're just making false starts. It feels bad. You're stuck.
Becoming unstuck is a topic I've given some thought to this year. My book-development clients face down stuckness now and then, as do my fellow BACCA writers, and, oh yeah, I do too. In fact, I'm writing a book about how writers can become unstuck.
Here, I offer you two tools – one larger, and one lower-impact, for your consideration, the next time you feel that stuckness in your vicinity.
The Big Idea
One of the tools I recommend is — dum – ta- dum – dum — The Deadline.
And not a fake deadline that only you need to pay attention to. For this to be effective and more likely to be resistance-proof, you need to set up a deadline where you're responsible to others. A deliverable to a third party. A date certain. An event. That sort of thing.
Fake deadlines – for instance, putting an event in your Google calendar – can be persuaded to postpone themselves. Don't ask me how I know this, but it's super-easy to grab one of those quiet little fake deadlines and slide it over a day or two. Or month. The possibilities are limitless, really.
To make the deadline strategy work for you, do yourself a real favor. Make a plan with someone else, someone you respect. Make a solid promise to them. Did the odds just increase greatly that you'll deliver something good, and on time?
Here's a not-so-random illustration of how this can operate: I'd been planning and drafting this book for a while. And maybe I'd been sliding over my self-imposed soft deadline dates in my online calendar once or twice. No one would know the difference, I told myself….
Now, I'm leading a workshop on the topic next month at Andi Cumbo-Floyd's writer's retreat in Virginia's Blue Ridge mountains. And when I agreed in March to do this, I committed to having in hand a beta version of the book in time for a late-July event. See how that works? It's simple and powerful. (And check out this retreat!)
The Littler Idea
Sometimes, all it takes is a walk around the block.
Do this for real, on 'shank's mare' (as my dad used to put it), or more virtually (standing up and stretching, your favorite deep breathing routine, a journaling break, and so on). A simple refreshing change brings you back to the same place, only it's so barely recognizable that it has become a different place.
Ah, words don't do justice to the beautiful simplicity of this concept. Check out the illustration to get a clearer idea of how brilliantly this can work.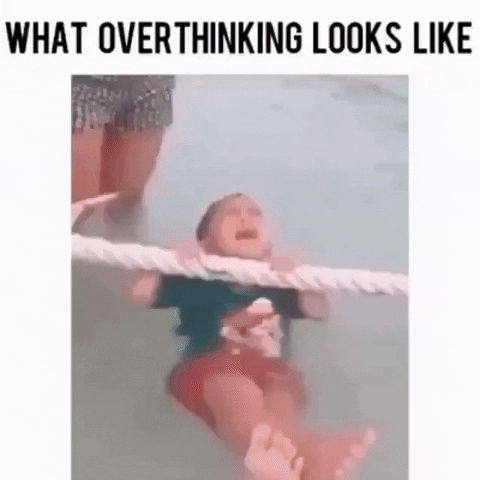 (Courtesy MediaGiphy.com)
Here's to becoming unstuck.
May all your stuckness be resolved. May you scratch your right ear and get on with your work.
— A M Carley writes fiction and nonfiction, and is a founding member of BACCA. Her company, Chenille Books, helps nonfiction authors develop their books. Her first nonfiction book, FLOAT: Becoming Unstuck for Writers, is forthcoming in 2016.